Members Can Download This Website For Free Here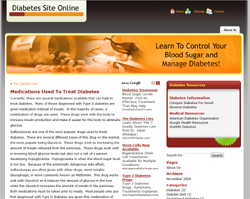 This is yet another website that uses WordPress as it's backend. This site is about Diabetes and Diabetes Care.
The site includes AdSense and diabetes-related affiliate links. The site uses WordPress as it's backend, so anyone from a novice to a pro can easily edit the site and add new content.
WordPress makes the site very easy to edit. The site comes with 25 pre-written articles that you can use however you'd like. Adding content is as easy as logging in and making a new post.
Please let me know what you think! The demo site is here – Diabetes Website
Instructions For Installation are in the ReadMe.txt file after you unzip the site.